Top 3 Popular And Cheapest Human Hair Wigs On 2020
2020-September-01-Tue 12:00:00:AM AUTHOR:supernova store
Today, I want to introduce three popular and cheapest human hair wigs to you. U Part Wigs, Pixie Wigs, Lace Part Wigs. The brand-new stars in wig market. They are made by 100% human hair, high-quality, just like our other products.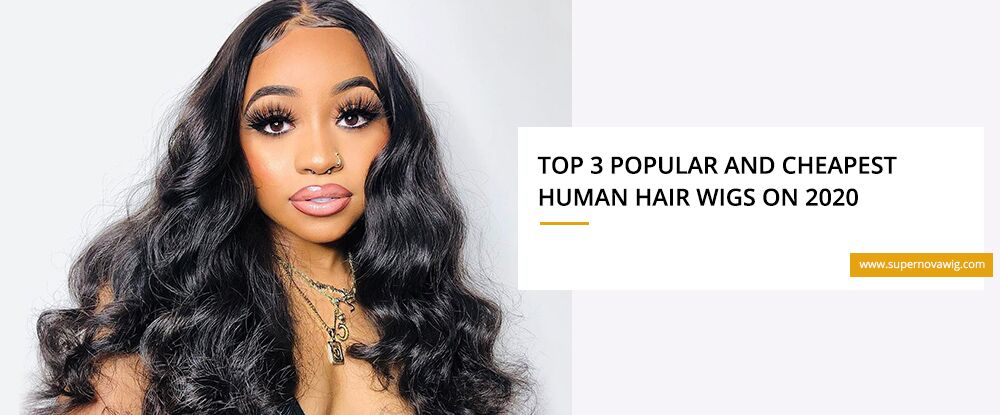 1. Why Choose Human Hair Wig Not Synthetic Wig?
A. Human hair is natural
Human hair more natural, the texture is similar to your own hair. It's difficult to find the difference by your eyes. Even use your hands to touch it, you will feel it's as soft as your own hair.
Synthetic wig is harder than human hair. And it's thicker than human hair. When you touch it, you may think you are touching a fishing line. It looks fake.
B. Human hair is easy to style
If you make a body wave wig, you will use a curling iron. It will create high temperatures to heat hair, but not all synthetic wigs can be heated! When you heat an ordinary synthetic wig, it will be melted. Another synthetic wig is high-temperature resistant fiber, but the temperature must below 180 degrees. Moreover, You can't color them.
Human hair is easy to style, how to style your own hair, then use the same way to style the human hair.
C. Human hair keeps a long time
If you care your human hair in a right way, it can keep 1 to 2 years or even longer if you care for it well. Treat it as your own hair, it's a High cost-effective choice.
Synthetic wig keeps for about several months. If you wear a long time, you will find there are more and more knots. It's not used to care it by shampoo and conditioner.
D. Human hair is light
We don't want to wear a heavy wig. If you choose synthetic wig, it's about twice as heavy as a human hair wig. It's thick, the breath ability is bad.
Human hair is light, the breath ability is fine. It's more comfortable.
2.Wigs With 100% Human Hair Advantages
Get that all-natural look
We all know that human hair wigs are 100% natural human hair, so it gives you a more natural look than other hair wigs. Synthetic hair wigs can be stringy and too shiny, which gives away the artificial look. Upon closer look, you will find hair wigs of 100% human hair look as natural as your own hair. A human hair wig responds to weather conditions just like natural hair. In conclusion, this guarantees the natural texture of your wig.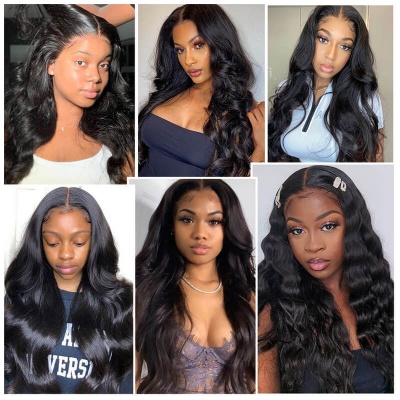 Comfortable on your scalp
We must know that our own scalp is more sensitive, so if we wear a wig, we must think of this element. You will find human hair wigs to be more comfortable on your scalp. This is because the wig cap allows your scalp to breathe freely. Unlike synthetic hair wigs, you can wear a hair wig for the whole day.
Good for dyeing
You will find that the color of a wig is very natural. Especially if you choose a color that it is similar to your hair. Coloring a wig is as easy as coloured your own hair. It just do the same way your hair does. This is not the case with synthetic hair wigs. It cannot be styled any different than the way it was manufactured.
Versatile for styling
Yes, you can get style your human hair wig in any way you want to. 100% human hair wigs can be styled the same as you would your own natural growing hair. The hair can be straightened, curled, and if desired, trimmed, though you will want to remember the hair doesn't grow back.
Do you want to style your human hair wig frequently? It's ok!!! This choice of styling is taken away from you when talking of synthetic hair wigs.
Long life
Human hair wigs last much longer than any other wigs. Synthetic hair wigs, on the other hand, has to be changed every year. So, do you still want to spend time buying synthetic hair wigs every year? Or you can just get a new human hair wig to last you more than a synthetic hair wig.
Easy maintenance
Human hair wigs take as much effort as your natural hair does. As it is made of real human hair, it can utilize the same products as your hair. Talk about that conventional shampoo or that popular hair serum, a human hair wig and go well with it all. So just care for it like your own hair.
So I can promise that our shop--Supernova Wig provide the human hair wigs are all 100% human hair. All of them will give you the best feeling.
3. Supernova Wig Top 3 Popular And Cheapest Human Hair Wigs On 2020
A. U Part wig
U Part Wig has a "U" shaped opening on the top of the Wig. It's no lace and glueless.
It's easy to install it. The "U" part is your own hair, so you don't need to do makeup. And keep your original hairline and baby hair.
The best-seller is Body Wave U Part Wigs.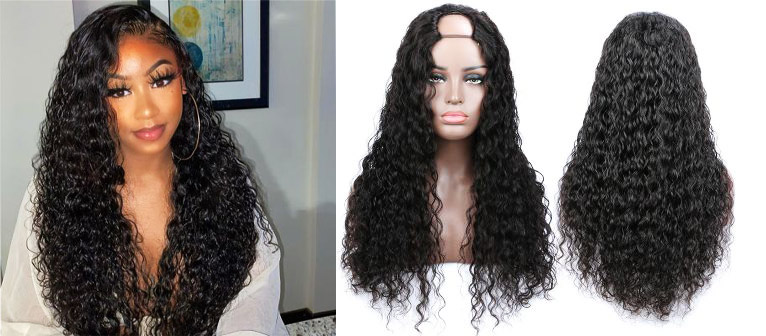 So what is a U part wig?
U Part Wig is a wig s with a U-shaped opening at the front with clips and adjustable straps on the back which allows you to blend your leave out or attach a closure. A U-part wig allows you to blend your own hair through a specific u-shaped opening at the top of the wig; thus this opening gives you the chance to blend your own part exposing the scalp for a better natural looking hairline.
The direction of opening also have middle part, left part and right part. Well, if you wanna protect your hair, a silk or lace closure is approved to be worn with u part wigs.
Well, if you wanna protect your hair, a silk or lace closure is approved to be worn with u part wigs. It's a great protective style that allows for endless versatility, and will save you both time and patience.
How to find it?
Come to SuperNova Wig, click U PART WIGS. You will have more choices.
B. Pixie Wigs
The whole name is short cut pixie human hair lace front wigs. It's a short human hairstyle. It's made with lace.
This is a short and light wig. Take a short time to care it. If you don't want to do makeup, just cover the part. And it's cheaper than a long wig.
A pixie cut wig is the perfect way to get some youthful energy into your look! A pixie style ranges from about a half inch to two or three inches. Pixie styles are a bold and confident look for women of all ages.
So you can try to wear the pixie wig.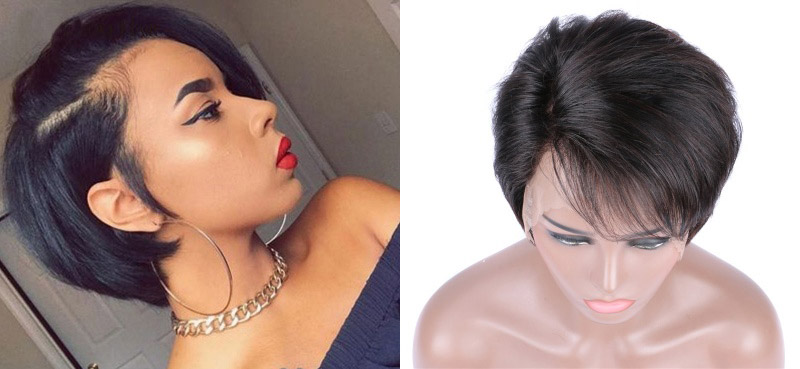 How to find it?
Come to SuperNova wig, click PIXIE WIGS.
C. Lace part wigs
The lace shaped a "T" on the top of the wigs, so it is called lace part wigs. The parting space come in various shapes, such as straight, C-part and L-part to name a few. The parts come in both side parts or center part wigs. It's made with a natural parting area. We reserved the front lace for you to adjust the baby hair and hairline.
The inside of the part wig you should get an elastic band attached to, and two combs on the front by the temple and another comb in the back with adjustable straps. As for the material on the cap, it's like a stretch mesh material so that's really good for you ladies that have a big head this week the stretch on your big head alright.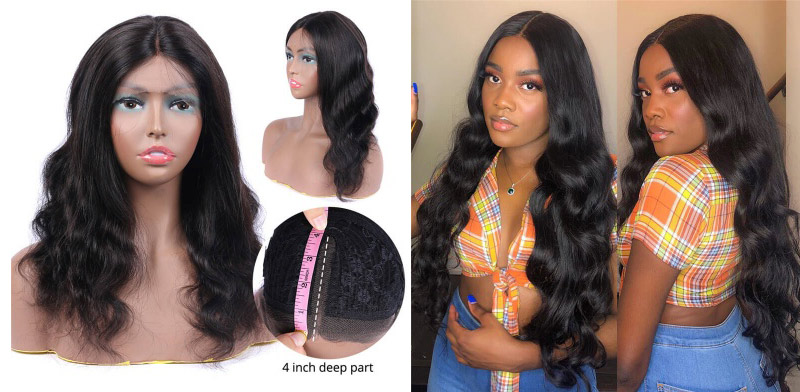 The baby hair and hairline are finished, you can wear it directly. If you don't do makeup, it's fine. The color of the lace is medium brown, it's fit for most people.If you don't want to bleach it, you can skip it.
Because it belongs to lace wigs, it has more breathable,,and more light. For the wearers, you are concerned about weather natural or not. But I can tell you that the lace part wigs are natural than other hair wigs. So it's a nice choice.
How to find it?
Come to SuperNova wig, click LACE PART WIGS
Customize & Wholesale
You can't find the wig that fits for you? Please feel free to contact us, we can do custom-made for you.
You want to have your own store, but you don't have a factory? Don't worry, please feel free to contact us, we offer drop shipping and wholesale.
Are you interested in doing wholesale business with us?
Why Choose
Supernova Wig
?
1. High Quality / Factory Price / No Minimum Order Amount Limit
2. Logo Design / Drop Shipping / Free Gifts / Fast & Free Shipping
3. 24 Hours Amazing Service / 15 Days Return Policy
We have our own factory, mature technology, and advanced production line. Please come and cooperate with us now.
TAGS: