Tips on How to Buy a Natural Wave Hair for Beginners
2020-December-11-Fri 09:52:39:AM AUTHOR:supernova store
Natural wave is also named water wave, as the shape of the water wave is just like its name, the wave is like the water ripples. Why women love natural wave hair? To see the reason, please kindly read on.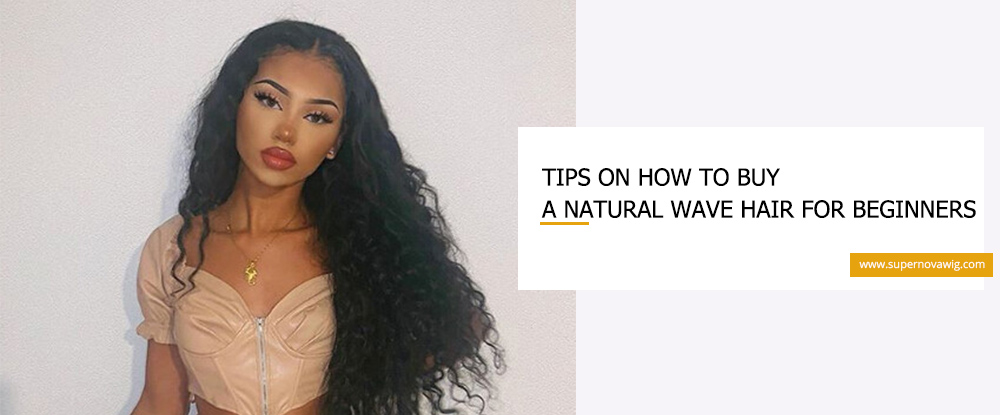 1.
The Advantages Of
Natural
Wave
Hair
1) All the natural wave hair in our store are made by 100% human hair, which are soft, smooth, no shedding and tangling. The natural wave curls in SuperNova Wig are without any chemical processing, to make hair wigs easier to blend with your own real hair. You don't even have to do anything and it just looks like it's coming out of your scalp.
2) The curls of natural wave are not as tight and small as curly and look like fuller and thicker, it can fit many face shapes better to provide you a new feeling of fashion and charming.
3) The natural wave hair wigs are adaptable, you can do so much different hairstyles with it. It can be dyed, you can have other colors, not just the original natural black. It also can be curled or straighten, if you are tired of the original hair texture. There are a lot of possibilities to make it to be more beautiful. On the other hand, after doing the above hairstyles, you also need to handle how to care for the hair wigs in a proper way to protect it like your own hair.
4) Wearing natural wave wigs can help increase your self-confident, make you look more unique and attractive.
According to the below picture, you can kindly see that the main types of natural wave wigs are including lace front wigs, lace closure wigs, bob short wigs, and pure&ombre lace wigs. Then we will take time for a brief introduction of each of them at the following content.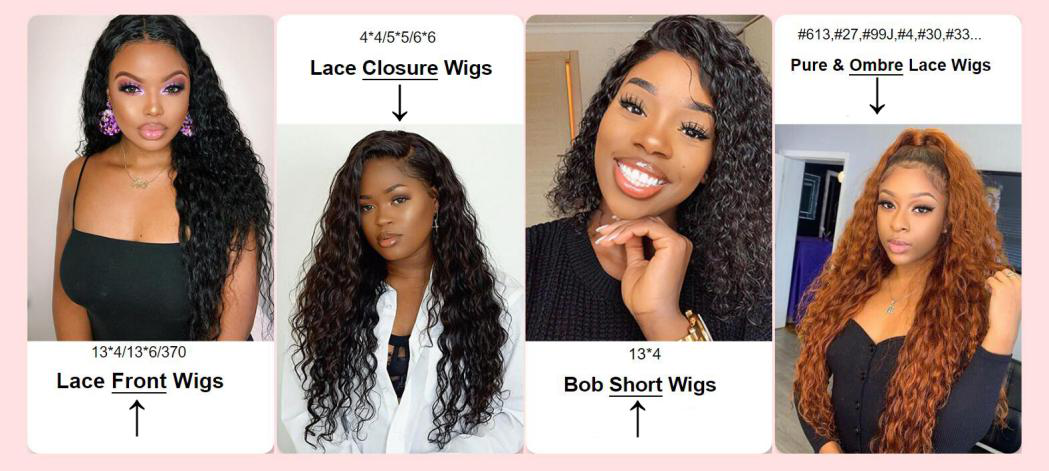 1) Lace front wigs are made by lace front which lace part is from ear to ear. The wide lace part will help you to have a more natural hairline and get a more real hair looking after installing the hair wigs. More lace area of the lace front means the whole hair wig can be lighter than others, and you will also feel more comfortable while wearing it.
2) Lace closure wigs, just like its name, lace area of the lace closure is less than lace front, which means it has a more affordable price for most customers. About the installation, it also will be easier and simple. Really a good present for a wig beginner.
3) Not always long natural wave hair wigs are in trend, fashion is changing every day. It's time to provide yourself a new look, like natural wave bob wigs. The capable short hair can make you look more confident and younger.
4) If someday you are tired of the original natural black hair color and want to try another one. Please don't be hesitated to contact us, we offer customize colors service, not just pure color but also ombre and highlight. A wide range of options for choosing colored wigs.